Huge thanks to the 2,382 of you who have subscribed to Free Smoke and to the 16 of you who unsubscribed last week: you're cowards. Click here to subscribe.
Last Friday morning I woke up and realized I didn't have a Free Smoke scheduled to go out at 8am. I hadn't even thought of it, not for a second. There was something peaceful about it having entirely escaped me, and I didn't sweat it for a second. Apologies for missing you. It will not happen again. Anyway, this week I didn't forget, and I wanna talk about distribution. Let's get into Free Smoke:
"I guess you lose some and win some,

Long as the outcome is income"

– Drake, Over My Dead Body
Distribution is hard af
Something you may not know about me is that for years, among other things, I built and ran recreational distribution in Oregon and California. We were operating on Metrc day zero in both markets. Before Nabis and friends, when Distru was merely a mockup, back when California retailers thought blue tags were basically optional. We were out here, serving 1000 retailers on the west coast with a lineup of our own brands and 3rd parties. It was my whole world until we went public a year ago and my role changed, and there is a very small group of people who know this shit better than I. I say that to say: It sucks.
It's as operationally finicky as you'd expect with cannabis. The software these days is much better than it was 5 years ago (because it exists) and the regulators are making it a little easier, too. All else aside the elephant in the room is still there, menacing as ever, and its name is cashflow.
A few years ago I pulled data on 5,000 payments we had received from retailers and crunched the numbers to try to understand why my cashflow was so brutal. Here's exactly what I learned about how we were getting paid, on average:
Please note this is all old data about previous business models I've tried, and none of it is MNPI 🙂
A visual: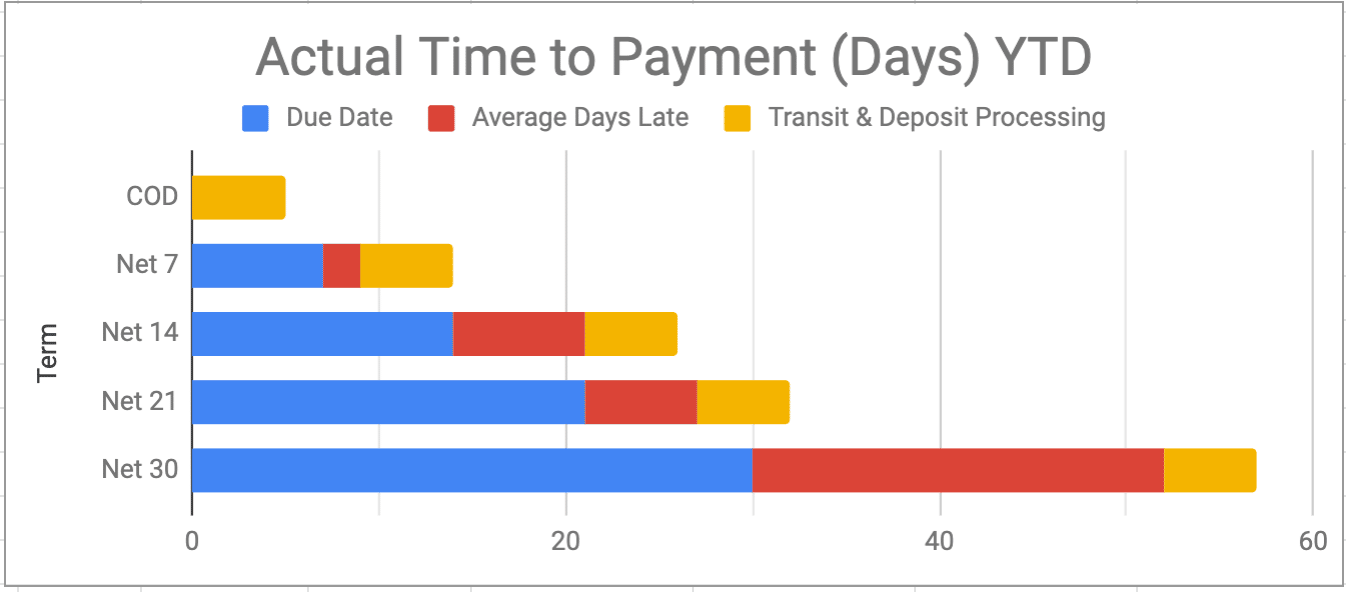 These numbers include processing and transit time because I was trying to understand how quickly I could pay a 3rd party brand without floating the bill. The obvious solution for a distributor is to pay out brands when funds are collected. That math ends up being a surprisingly nuanced calculation if you deal with several brands and partial payments. Instead, I used my old friend math to pay brands out based on when the data said we would be paid. Net 14 and under we paid 30 days from the sale, Net 15 and over we paid 60 days from the sale. Brands hated the idea, but we had the reality of the industry on our side. We're not the bank.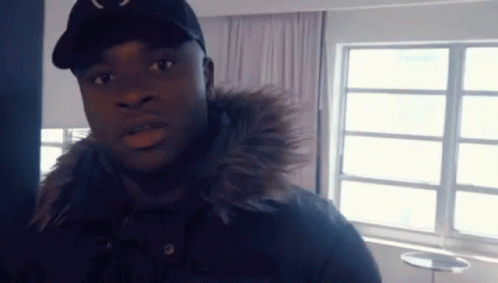 Modern distributors are getting fancy w/ web apps and factoring programs that leave them with the burden of collection and get the brands paid. Programs like this are all smiles in a healthy ecosystem, I bet the data in those pitch decks looked great, but only a few months into hard times trouble is in the air. If you can't smell it, you will soon. Retailers are the gatekeepers of every dollar that enters the industry and the further you are from them, the harder it'll be to get paid.
My take: Own your channels, own your relationships, and fight like hell to own your cashflow.
Things That Matter
In The Streets
Btw check out my podcast
Last week on the pod we had Andrew Gazdecki of MicroAcquire who is kind of a big deal, and this week we've got Chris Munn talking about buying and building service businesses. I can't get my wife to listen to the pod, will you?
Thanks for reading Free Smoke, if you're new you can check out previous issues here.
Check out 2 newsletters from my best friends Oren and James: