Huge thanks to the 2,551 of you who have subscribed to Free Smoke.
Quick sidebar: Last Thursday my wife posted a video on TikTok. It got 4M views in 72 hours and drove like 950 orders and $30k in sales for her ecomm business. It was sick. I did a quick video about it on my new TikTok.
Anyway, when I saw the headlines about a GTI deal w/ Circle K in Florida, my initial reaction was cynical. When I was a sophomore in college the Circle K down the street was serving decent 20's til 1am every night, so what's the big deal? Jokes aside, my knee jerk pessimism caused some self reflection: why is my reaction to news like this always so negative? Let's get into Free Smoke:​
"To my city I'm the 2-3,

Drug dealers live vicariously through me."

– Drake, Say What's Real
Hype cycles usually come up short
Being on the inside of an industry with constantly changing legislation has been interesting to say the least. The disconnect between rule makers and day to day cannabis operations are massive, but there's a metaphorical abyss between us and the headlines. As operators I think it's generally our job to push the industry forward and make sure the world knows about it. As we do, the media will naturally do their part in sensationalizing our progress and for every headline that claims another massive leap, we'll collectively inch forward. It is what it is.
This week we saw a press cycle about GTI's prospective new landlord in Florida: Alimentation Couche-Tard. Alimentation Couche-Tard operates Circle K convenience stores and will, under the agreement, lease GTI space for dispensaries. The press went nuts: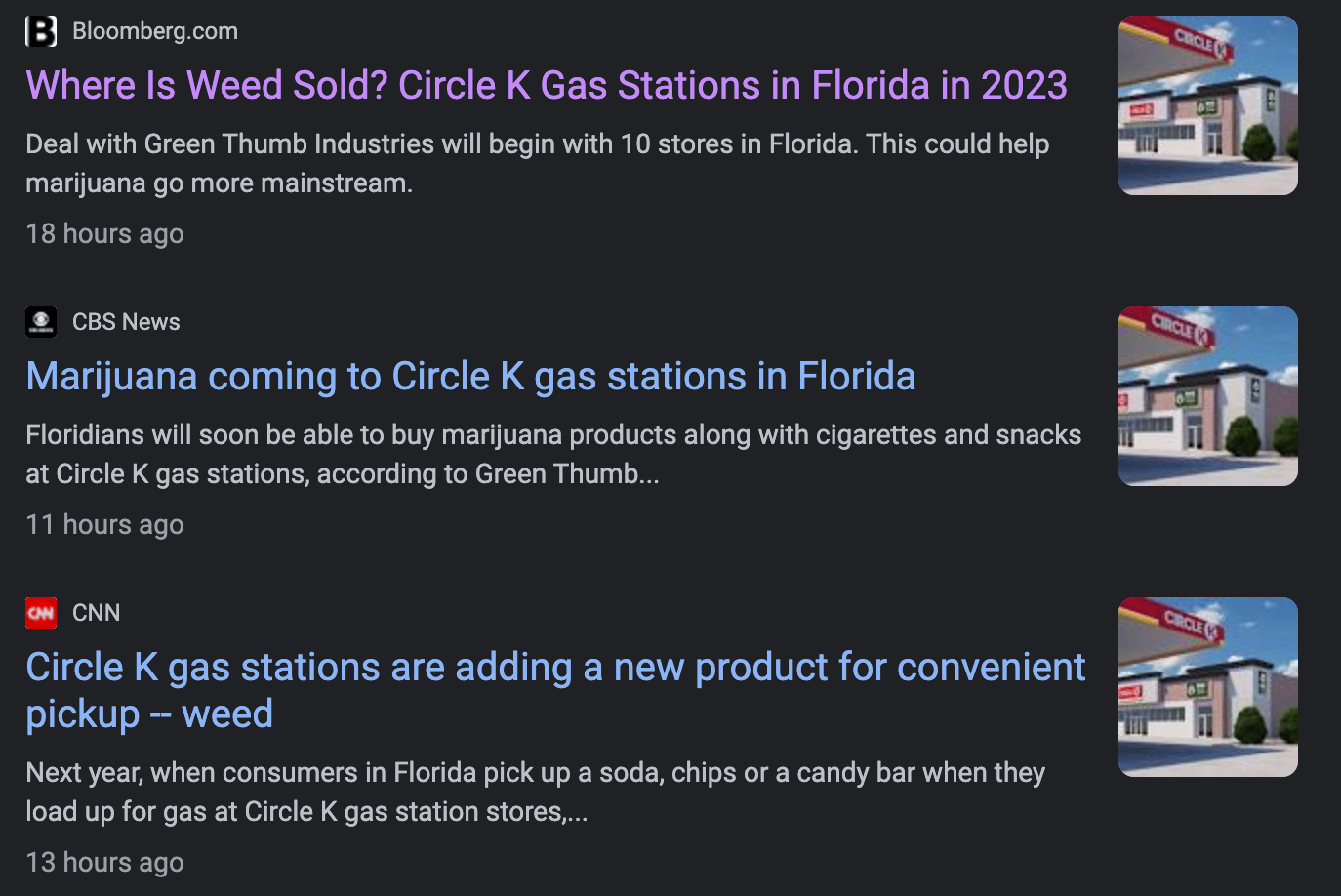 There will not be weed sold in Circle K's in 2023. There will be strip malls, and maybe gas stations, with (Circle K) convenience stores and (RISE Express) dispensaries in them. Card holding medical marijuana patients will be able to go into the dispensaries and buy cannabis. If this sounds familiar that's because if you subtract the medical card hoopla and mids, I just described every other street corner on the west coast. You can read the release, it is literally a landlord/tenant arrangement that the media has spun into something else entirely.
"Convenience is a strong channel in retail, and people want more access to cannabis. The new RISE Express model is a huge step forward in making it easier and more efficient for patients to purchase high-quality cannabis as part of their everyday routine when stopping by their local convenience store."

​

– Ben Kovler, Green Thumb Founder, Chairman and CEO
Context is the culprit: these revelations are not coming from companies that operate in competitive open markets that already have dispensaries on every corner. The idea that weed is convenient and available to adults everywhere is a foreign one on the east coast, whether you're the one issuing the press release or spinning it into a juicy headline.
And Ben, I promise I'm not just a hater, GTI is probably as good of an operator as there is. I'm just throwing shade cuz you ghosted me after our first call in 2018. Setting my cynicism aside, here's my ask for everyone:
Let's push the industry forward in meaningful ways, shoot each-other straight about it, and help the media do the same. What we do everyday is remarkable without the fake news. We don't need that: We need consistent regulation, blanket pardons, and good weed.
—