Huge thanks to the 2,280 of you who have subscribed to Free Smoke! 🖕 to Anthony and Sarah who unsubscribed last week, and if you're thinking about it please jump ship now my open rates are absolutely poppin' I don't need any of you dragging me down. Also, if someone forwarded you this email, click here to subscribe.
​
A lot of you replied to last week's email with examples of my famed typos. Please refer to my previous emails and remember that you have to publicly air me out on Twitter or LinkedIn if you want to at all. Them's the rules. Anyway, the recording of last week's CannabisCon w/ yours truly is available now on YouTube, I made a couple bad jokes. Let's get into Free Smoke:
​
"You say I changed, I say I millioned"

​
​
Brands are born
A copywriter, a designer, and a suit walk into a boardroom.
The next day, on August 5th, 2021 an MSO (multi state operator) put out a press release announcing their new lineup of brands. The marketers had been busy at work churning 4 new names, logos, taglines, descriptions, and of course… mockups! Just like that 4 new consumer brands are born, ready to penetrate the market and win the hearts and minds of customers everywhere. Right? 🥴
Wrong. Our 3 friends are confused. It's a mistake MSO's make everyday, and it's perpetuated by the marketing agencies they hire to mock these things up and get us all excited. These are not brands, they are branded products.
I think by definition these things may be the same, but in my eyes there is a massive distinction in cannabis and I'd define it like this:
Branded products are white label products with a logo slapped on them. They do not have:
An authentic story
A community that demands them
A unique value prop
Organic sell through
Robust support systems
Anything special at all
For a lot of businesses, that's fine. For MSOs with large retail networks, moving higher margin white label products works quite well. It's the oldest trick in the book (s/o Kirkland Signature!) but it's almost never a brand.
Trulieve, the company that issued the press release above, is dominant in anti competitive limited license states like Florida where their retail presence creates artificial market share. They also own 5 dispensaries in California where, as far as I can tell, they don't sell any of their "brands". I searched a couple of their menus for all 4 of the brands from that fateful press release and found nada. Am I missing something?
Let's take the brand conversation to Trulieve's backyard where one of the only national cannabis brands, Jungle Boys, just opened up shop. In the first week of sales the new kids in town sold almost 2x as much flower as the average Trulieve store. 575oz versus 322oz. Jungle Boys, with it's roots 5,000 miles away in southern California, is a brand.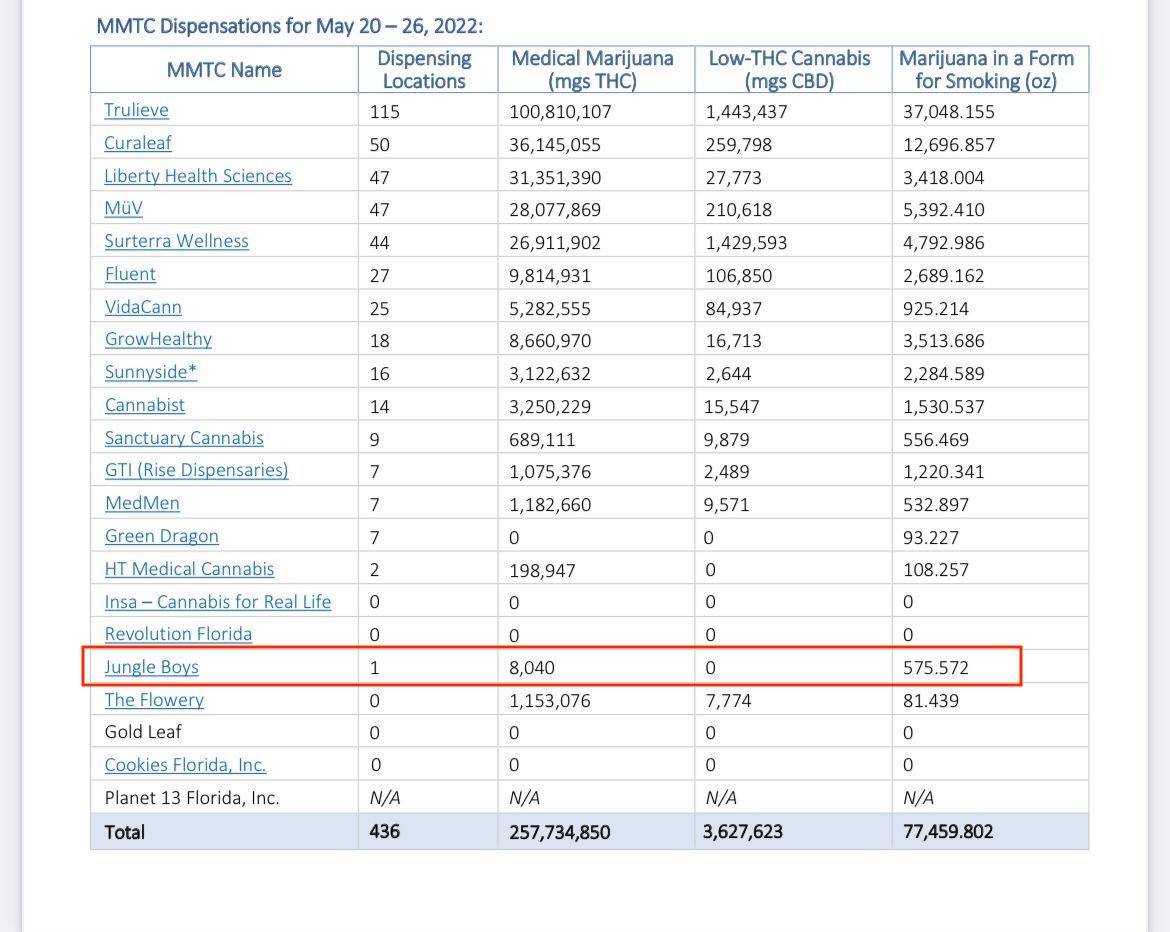 These are not shots at Trulieve, they are examples of the power that culturally entrenched real brands have, and a reminder that all the resources in the world can't just manufacture it. In the case of the California stores, maybe they've just chose not to fight that battle yet – it's a bloody one out here and I don't blame them.
This conversation begs the question, what is a national cannabis brand? Do they exist yet? I think they do, but there's only a few. I'll get into it next week unless I get distracted by something shinier.
​
---
🎧 Builders Build Podcast 🎧
This week we did a deep dive about the business my wife bought a year ago. Did a thread about it on Twitter, too.
A year ago my wife bought a small eCommerce business doing $1k/mo.

Since then she has more than 8x'd monthly revenue, and it'll do $10k in June.

Here's how we're gonna take it to $50k/mo: pic.twitter.com/ki3hJdF3t8

— Colin Landforce 🛠,🛠 (@landforce) June 14, 2022
---
Things That Matter
Cannabis sales have been declining, and I think they're gonna boom in the second half of 2022 [Free Smoke]
The USDA's $6B natural disaster relief program for farmers does not include weed farmers. [Link]
Johnson & Johnson asks the FDA to work on their cannabis guidelines and regs [Link]
I wrote about FDA awkwardness a couple weeks ago [Link]​
Someone captured live footage of the market tanking [Link]
In The Streets
Unrelated Vibes
These F40's from 30 years ago run like $2M right now (not the Hot Wheels one)
---
Check out 2 newsletters from my best friends Oren and James:
​
Thanks for reading Free Smoke. I'll see you again next Friday. Tell a friend and check out the podcast or else.