Huge thanks to the 2,372 of you who have subscribed to Free Smoke! Click here to subscribe.
We took a week off last week but I'm back like I never left and if you've been keeping up with me on LinkedIn this week you can tell I'm here to talk some shit. I have a favor to ask you this week! If you like Free Smoke, go forward this email to someone you think might like it and tell them to subscribe. Right now, do it now, and then let's get into the 10th issue of Free Smoke:
​
"This for y'all that think that I don't write enough,

They just mad cuz I got the Midas touch"

– Drake, Back to Back
​
Why can't we agree on how to sell flower?
This week I posted a poll on LinkedIn about one of my favorite debates in cannabis: packaged or deli style flower. The winner was clear: Deli style. If you're not familiar, that means bulk jars of flower that individual nugs are picked from for the customer. Lucky for you guys I live in Portland, and in Oregon 95% of dispensaries operate this way. You can bet your bottom dollar I have a take on the topic.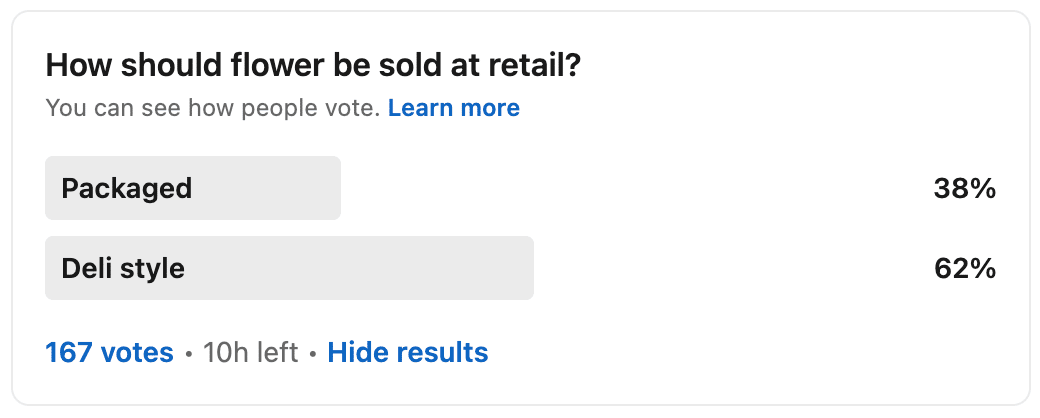 In states like California packaged flower is the law but the culture has cemented it in place. The proliferation of brands even before rec, the graphic mylar bags, and the importance of delivery in the CA market make it ubiquitous with packaged flower in my eyes. By contrast, Oregon's predominantly craft market absolutely hates that shit and I've spent a lot of time trying to fit a round peg into a square hole to help our teams capture big ticket brand revenue with packaged flower. The energy of deli style is fun, but when you get into it packaged flower is better for everyone in the value chain, all the way to consumers. Let me explain:
Generally speaking, packaged flower is exposed the environment two (2) times between harvest and customer. Once for trimming, and once for packaging. Compare that to a 1 lb batch of bulk flower that could be opened as many as 100 times during it's life on the shelf, each time being handled by budtenders. Nugs go in and out, moisture is lost, bags are overweighed. The consumer ends up with flower that's been on the move it's whole life, and the dispensary is stuck doing QC on every nug and holding the bag on all the lost product in the process.
Let's do some math. I've talked to several friends who run deli style dispensaries and they all agreed they see 5-10% loss on every batch. Add exit packaging and a budtenders time and all of a sudden you've got more than $1 in additional cost on every 8th you sell. Really though. 454 ÷ 3.5 ≠ 129… not on any day of the week.
A smell jar is arguably the best of both worlds: The consumer gets to sniff and check out the flower, the dispensary has control of their costs and inventory, and the brand is omnipresent through out the process (which it is not if it's deli style). I think ultimately deli style will have a place in some stores and markets. Maybe it's like the growler store of weed, or like going to the butcher for your meat as Graham from Glass House mentioned on my LinkedIn post. As he also pointed out, all that matters is what consumers want and as regulations normalize or just get less dumb I'd imagine markets will have more flexibility on this.​
---
Btw check out my podcast
The Builders Build podcast has been slapping lately with episodes on Amazon, ecomm M&A, website building, and more. Bless that commute with some banter from the home team.
---
Things That Matter
In The Streets
Jeeter is going DTC in California [Link]
710 launches "Close Friends" super small batch numbered drops in CA [Link]
Eastwood launches new Runtz Horchata Summer strain in OR [Link]
These new custom Korova jar samples are smacking [Link]
Neil deGrasse Tyson talks about weed [Link]
NY and it's legal weed vans really do not give a fuck [Photos via James Camp]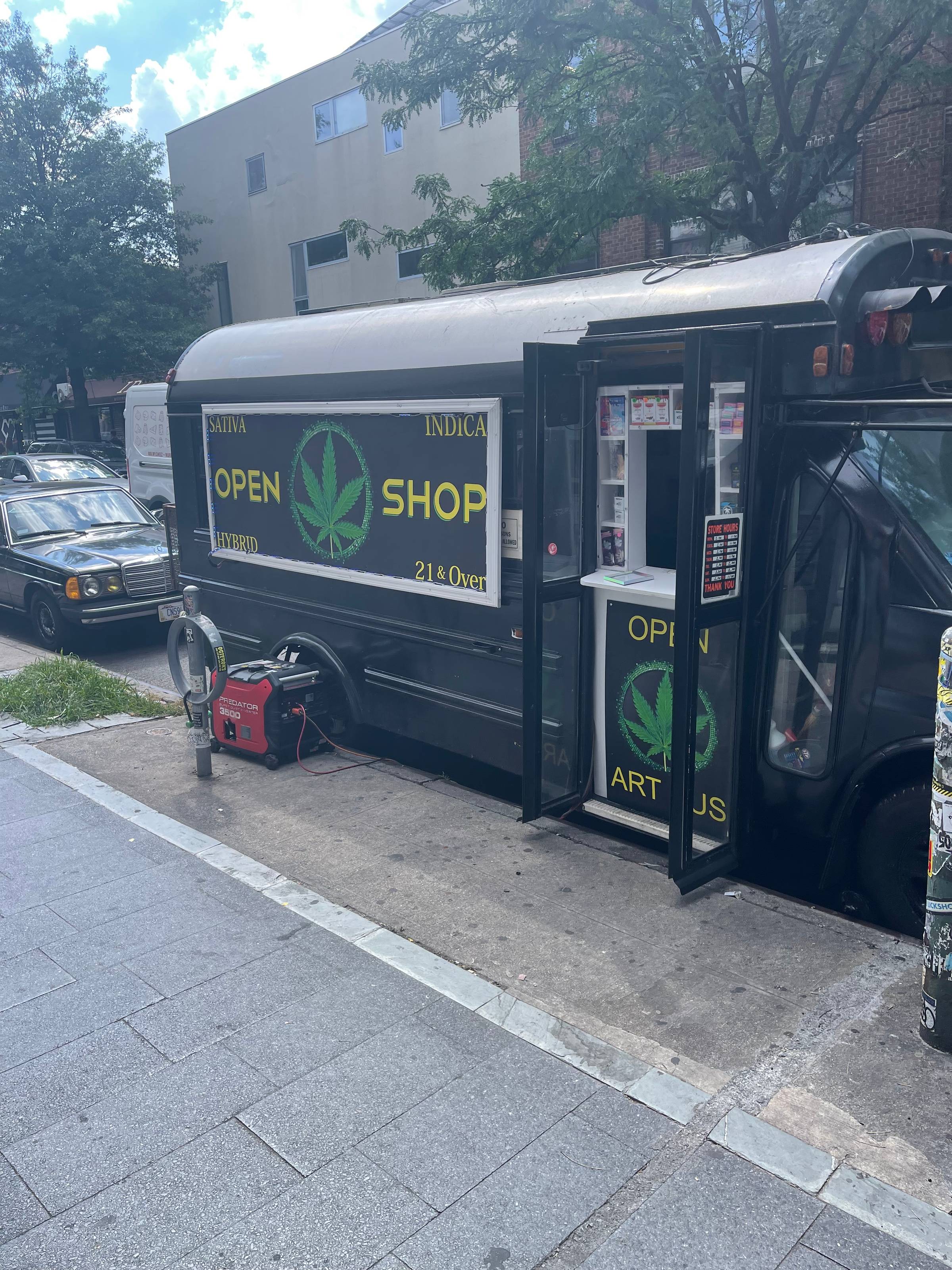 Unrelated Vibes
After 150 F1 starts, Carlos Sainz took home his first W at Silverstone 2 weeks ago and it made me happy. Vamos!
---
​
Thanks for reading Free Smoke, if you're new here you can check out previous issues here.
Check out 2 newsletters from my best friends Oren and James:
​